Duke of Edinburgh remembers missing gas balloonists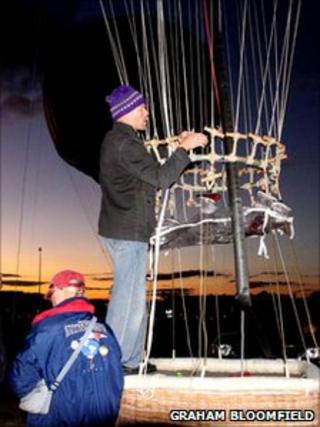 The Duke of Edinburgh has paid his condolences to the families of two missing gas balloonists, at a gala dinner in Bristol.
Prince Philip attended the dinner as patron of this year's Gordon Bennett Cup race, which the two Americans were competing in when they went missing.
A minute's silence was also held, as the search for Richard Abruzzo and Carol Rymer Davis continues.
Radar information has suggested the pair are unlikely to have survived.
The duke said: "I'd just like to send word of condolence on behalf of the Queen and myself to the friends and family of the two Americans who are missing."
The dinner had originally been organised as a celebratory event, but it went ahead on Saturday night more as a tribute to the pair who went missing over the Adriatic on Wednesday.
'High-risk enterprise'
Twenty teams had taken part in the race, launching from near Bristol on 25 September.
Don Cameron, the race's flight director, said they had considered cancelling the dinner but added: "You can't really do that because the competitors had made a tremendous performance, better than in many previous Gordon Bennetts, so they deserved their medals.
"We couldn't rob them of that, although it was appropriate to have quite a serious show of respect at the beginning of the dinner.
"The Gordon Bennett is... a slightly high-risk enterprise and unfortunately it's turned out badly.
"It may well change our safety rules in some way."
David Hempleman-Adams, from Wiltshire, who came third with co-pilot Simon Carey, said: "They should be remembered for what they've done and what they've brought to the sport."