Gloucestershire and Wiltshire introduce 'Sarah's Law'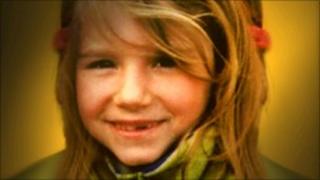 A scheme that lets parents check if someone in contact with their children is a paedophile has been introduced in Gloucestershire and Wiltshire.
The Child Sex Offender Disclosure Scheme, often referred to as Sarah's Law, was piloted in four police force areas between 2008 and 2009.
The scheme was introduced after Sarah Payne, eight, was murdered in 2000.
It has also been rolled out in other areas including Sussex and Leicestershire.
Convicted sex offender Roy Whiting, who kidnapped and murdered Sarah in West Sussex, was jailed for life with a 50-year tariff set by the then Home Secretary David Blunkett.
The jail term was reduced by 10 years by a High Court judge earlier this year.
'Risk of abuse'
After the murder, Sarah's mother Sara Payne led a campaign calling for a British equivalent of American laws under which the addresses of convicted paedophiles are publicised.
Under the scheme, parents can ask police about anyone with access to their children.
Officers will reveal details confidentially, if they think it is in the child's interests.
Neil Kelly, of Gloucestershire's Public Protection Bureau, said: "This new scheme should prove extremely valuable in protecting children in Gloucestershire from the risk of abuse.
"We and our partners are fully committed to working with the community to prevent harm to those who are among the most vulnerable in our society and this extra tool will assist us to do so."
The scheme was rolled out in Northamptonshire, Staffordshire, Leicestershire, Wiltshire, Cheshire, Durham, Northumbria, Dorset, Lincolnshire, Surrey and Gloucestershire on Friday.
It is already running in West Mercia, Bedfordshire, Norfolk, North Yorkshire, Thames Valley, West Midlands, Essex and Suffolk, and the pilot areas in Southampton, the Stockton area of Cleveland, Warwickshire and the northern division of Cambridgeshire Police.
The scheme is due to be rolled out to all forces across England and Wales by spring 2011.