Spanish hotel blast woman returns to Weston-super-Mare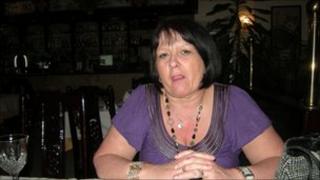 A woman who was seriously injured and left in a coma following a hotel explosion in Spain has been flown home by air ambulance to Weston-super-Mare.
Carol Gardener, 53, had to have brain surgery after the hotel on the Costa del Sol exploded as she walked past with her family on 23 August.
After two weeks in a Malaga hospital, she is now in the Weston General.
Her daughter, Tanya Gardener, said: "My mother is a fighter and has a desire to come home."
'In shock'
She added: "Her burns and cuts are all healing well. She is currently still confused because of the head injury but improvement with movement and her ability to talk is increasing every day.
"We are managing to sort visiting hours around jobs. Dad is currently not working due to the stress of being in the explosion too.
"At present I feel numb to the situation, as a daughter I do what I have to do to support my mother and father and make sure bills are paid as well as providing love and support.
"The family are in shock and working together to make sure we provide mum with the best care possible."
Tanya Gardener, 31, said she had reduced her hours as a college lecturer to help support her mother, but would soon be returning to full-time work.
When asked if the family would return to the holiday resort, she said: "At present that is not something that we have discussed but we are aware that it was a freak accident and could have happened anywhere.
"That resort and hotel holds lots of happy memories but now holds lots of upset too, but who knows what will happen in time."
Mrs Gardener was on holiday with her husband, and her sister, Julie Loud and her husband.
The men were not seriously hurt as they were walking a few metres ahead of their wives. Mrs Loud suffered leg injuries and had to have 20 stitches.
Tanya Gardner said: "My aunt is doing well but the situation has been very stressful and she and her husband have not returned back to work due to the trauma of the explosion."