'Nightmare' hotel guests face online blacklist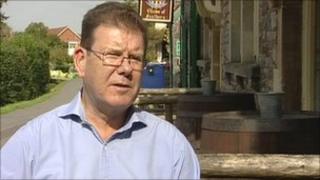 A Bristol businessman has set up a website aimed at protecting small hotels from "nightmare guests".
"Known troublemakers" who damage rooms or steal bathrobes or towels will be listed in a database and can be spotted before bookings are confirmed.
The website, called Guestscan, was set up by Neil Campbell and has been operating for about a week.
He said he established it when he realised the extent of the problem across the country.
Owners share information on the website and if a name comes up, they can decide whether to say yes to the booking, or 'no thanks we're full'.
'Trust broken'
Kate Jackson, owner of the Plume of Feathers, a country pub with five rooms in Rickford, North Somerset, has fallen victim to theft by guests.
She said: "That trust has been broken. You expect people to treat it as their own home.
"A small business like us, we can't afford to keep replacing things."
Mr Campbell said it had taken almost two years to ensure the website complied with the Data Protection Act and any potential litigation that could ensue.
He said: "We are perfectly confident we have a system that protects people's liberties on both sides.
"Anybody going on the list will be advised they are on the list and they can come and query the information we hold and dispute it if they think we're not being fair."