Bristol dementia study gets funding boost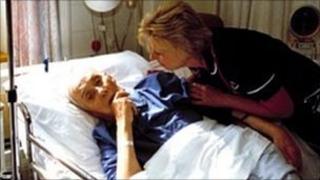 A major study by Bristol researchers to help doctors understand dementia has been awarded a £425,000 grant.
The University of Bristol Dementia Research Group is to look at why high blood pressure and strokes can cause brain damage that can lead to dementia.
The group, which is based at Frenchay Hospital, was awarded the money from the Alzheimer's Society and the Alzheimer's Research Trust.
It is thought this type of dementia affects over 300,000 people in the UK.
At present, there is only a limited understanding of the extent to which vascular dementia occurs.
'Terrible condition'
The funding will be used to develop new methods for measuring molecular changes in the brain and to come up with new forms of treatment.
Dr Patrick Kehoe, lead investigator, said: "This is an exciting time for our group with such a level of trust being placed upon us to push the boundaries of research into vascular dementia research both on a national and international scale.
"We hope that our work will make a real difference to how people are treated in the future and that we will have put to rest some of the current stumbling blocks that have delayed clinical trials of possible treatments for this terrible condition."