Dog found in France to be reunited with Bristol owner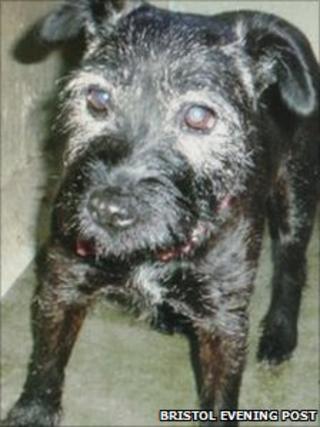 A dog that was due to be put down in France is set to be reunited with its Bristol owner.
A cross-channel hunt was launched after Poppy, a black Patterdale terrier cross, was found wandering alone on the streets of Toulouse.
Poppy had been microchipped in Bristol in 2002 but her owner had not updated the chip with new address details.
After an appeal for information by DogLost, an online database for lost dogs, Poppy's owner has been traced.
Mystery had surrounded how Poppy had ended up in France but a newspaper reader recognized Poppy and contacted her owner.
Poppy's owner had moved to France about seven years ago, but returned to the UK to care for his ill father.
He had been travelling back and forth across the Channel for six to eight weeks and had left Poppy in the care of friends.
According to DogLost, the owner's friends had not wanted to add to his stress by telling him Poppy had gone missing.
DogLost volunteer Lynn Headford said: "It's been really amazing that we've been able to find Poppy's owner.
"I thought it might be impossible, the owner could have been anywhere, but in a few days after launching the search and it being shown in the papers, it went crazy."
She said the pair would be reunited in France.