Bristol City chairman urges fans to help save stadium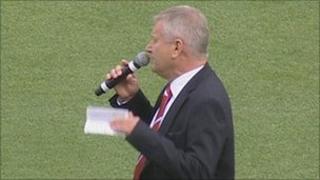 The chairman of Bristol City FC has made a rallying speech urging fans to help fight for a new stadium.
Stephen Landsdown took to the pitch with a microphone before Saturday's team game against Coventry.
Plans for a new £92m stadium were effectively blocked when the proposed site was recommended for town green status.
Mr Landsdown told fans he would continue working to make the stadium plan possible.
"We can do two things. We can lie down and do nothing, or we can fight," he said.
Information sought
"I promise you I will work as hard as I possibly can, invest as much as I can to achieve the aims which I set out to achieve three-and-a-half years ago, which is to build a stadium fit for this football club.
"I hope that all of you here and all the people you know will help me in that process as well."
He drew attention to leaflets distributed around the stadium with details of where to send comments and information which could help the scheme stay afloat.
"Any information you have with regards to Ashton Vale, any knowledge you have, however trivial you think it is, please come forward with it," he said.
" I need your help. This club needs your help. Let's see what we can do."
About 200 people supported the legal bid to stop new development on the 42-acre site in Ashton Vale, near the the club's current Ashton Gate ground.
They had to prove that the site had been freely used for recreational purposes for 20 years or more.
Last week, an independent inspector ruled that the site met the legal requirements to be granted town green status.