Bristol sham wedding attempt pair jailed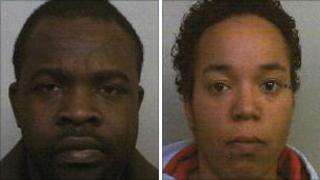 A Nigerian man and a Portuguese woman have been jailed for trying to get married in a sham wedding in Bristol.
Aliu Onilewura, 33, was jailed for 18 months for handing over false identity documents and six months for possessing a false passport.
Single mother-of-three Gisela Khan, 29, was jailed for two years for handing over false identity documents
Onilewura and Khan had both pleaded guilty at a previous hearing at Bristol Crown Court.
The pair, who were strangers, had posed as two people called Michael David and Gisela Rosa to contact the vicar of All Hallows Church, in Easton, to ask for permission to marry there.
The application was referred to a lawyer used by the Diocese of Bristol to issue common marriage licences.
The lawyer then contacted the UK Border Agency to verify the identity documents provided by the couple.
Believing the documents to be fakes, officers from the UK Border Agency went to Wells to arrest the pair as they arrived for a meeting with church officials ahead of their planned wedding.
A search of the possessions of "Michael David" revealed a driving licence and cheque book in his true identity, a fake passport in the name of "Gisela Rosa" and £300 in cash which, agency investigators believe, would have been paid to Khan for agreeing to carry Onilewura.
Inquiries revealed Khan was already married to another Nigerian man who is wanted for questioning as part of the same investigation.
It was also established that Khan had no links to Bristol and was living in East London.
Tracey Zenthon, who oversaw the investigation, said: "We believe a number of churches in Bristol, with a broad mix of nationalities in their congregation, are being specifically targeted for sham marriage scams.
"We have several investigations under way and will stop this illegal activity in its tracks.
"Let's be clear. A marriage certificate is simply not enough to get residency in the UK - the relationship also has to be genuine.
"In this case, the couple lived 200 miles apart and had barely spoken to each other before.
"If we receive any intelligence that a sham marriage is being planned or has already taken place, we will take action and, ultimately, deport those involved."