Family's appeal to Bristol girl, 14, missing with baby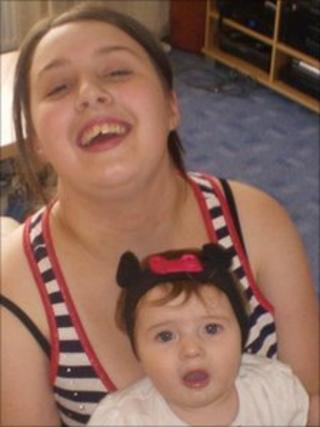 The mother and cousin of a 14-year-old Bristol girl who went missing with her young child have appealed for her to come home.
Tinishya Marshall and her 10-month-old daughter Sophie were last seen at 1530 BST on Friday in the Greystoke Avenue area of Southmead.
Her mother Liz said: "She's a young 14, she's not very streetwise."
Tinishya said she was going to the shops and took the baby in a pink pram. She never returned home.
Ms Marshall said: "I tried ringing her phone at that point and it was switched off and it's been switched off ever since.
"She took no provisions for her or the baby, no changing bag, no bottles, no food, nothing.
"We don't even know that they're OK."
She said it was unusual for Tinishya to stay away from home.
Tinishya's cousin Nikita Stephens has set up a Facebook group, which has more than 1,400 members.
She said: "You couldn't wish for a better friend. I just want them home safe."
It is thought Tinishya may be with a boy, 16, who has also disappeared. There have been unconfirmed sightings of them in Brean, North Somerset.
She is described as white, 5ft 2in (1.57m) and of heavy build with dark brown shoulder length hair.
She was wearing a black velour tracksuit with a white top underneath. Her daughter was wearing a red velour tracksuit.
The boy is described as white, 5ft 5in (1.65m), with short mousy brown hair.
He was wearing black tracksuit bottoms, a white T-shirt and white trainers.
Police believe that Tinishya and her child may be in North Somerset or may have travelled to the Devon or Cornwall areas.
Officers have asked anyone with information about their whereabouts to contact them.