Bristol Half Marathon runners 'not timed'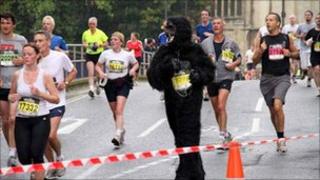 About 900 runners in the Bristol Half Marathon did not get an official timing record after microchips they were wearing fell off.
The race started and finished at the Harbourside earlier.
An event spokeswoman said it was thought that the "champion chips" could have fallen off due to wet weather.
She said organisers would check video pictures taken at the start and end, and give those affected their times as soon as possible.
Some of the elite runners also lost their chips, she added, but their times were being measured by stop watch.
Organisers said 16,400 people signed up for the race, but 11,166 had started it.
Two people were taken to hospital, with one into intensive care and the other under observation, the spokeswoman said.
She added another 40 people were treated for minor injuries.
The 13.1 mile (21.1km) race was organised by Bristol City Council, which apologised for the problems.
The spokeswoman said runners had been recommended to attach the chip, which comes with an adhesive strip, by weaving it through their shoe lace to ensure it was secure.
She said: "Unfortunately a number of runners lost their championship chips during the race and were unable to get an official race time.
"We are looking into why this happened and believe it could have been due to the wet weather conditions.
"We apologise to all the runners involved. We know how hard they've worked.
"We have successfully used championship chips for three years in both the 10k and the half [marathon], and they have been used in major road races for over five years.
"But we are not aware of anything happening like this before."
The route took participants, including wheelchair racers and walkers, along the Portway, through the Avon Gorge and under the Clifton Suspension Bridge.