Bristol man jailed over drugs and weapons charges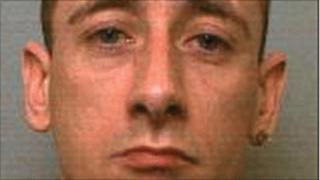 A Bristol man has been jailed for seven and a half years after pleading guilty to drugs and weapons charges.
Jason Barnett, 35, of Richmond Terrace, Avonmouth, was arrested after a gun and chemicals used in cocaine production were found in his van.
The judge at Gloucester Crown Court dismissed his claim that he was pressurised into committing his crimes.
Barnett was convicted of conspiracy to supply cocaine and possessing a weapon and ammunition.
The court heard that police, who were called to a domestic incident at Barnett's house, discovered a hidden compartment in his van containing a pump action rifle and chemicals used in the production of an estimated £100,000 worth of cocaine.
DNA link
Scientific examination of his belongings, including DNA found on a roll-up cigarette, a single spot of blood on a duvet cover and fingerprints on a birthday card, linked him to the truck, cutting agent and the gun.
His lawyer told the court Barnett had been violently assaulted with a hammer by unknown criminals to force him to look after the firearm and the cutting agent.
But jailing Barnett, judge William Hart described him as a" bad and dangerous man".
He told him: "You agreed under considerable pressure to take part in this conspiracy, but you had a choice to either submit or reject that pressure. You have a long and bad criminal record."
After the trial, Insp Steve Coghlan, of Avon and Somerset Police, said: "Today's conviction was due to good policing supported by science.
"We are pleased that this weapon and ammunition has been taken off the streets and that another offender has been brought to justice.
"We are delighted the courts, through the sentencing of Barnett, share the view of the police and vast majority of the public of the abhorrence of this type of criminality."