Opposition grows to Bristol council plans to sell land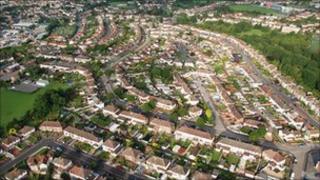 Campaigns have begun against plans by Bristol City Council to sell off some of its public land.
The authority hopes to raise up to £90m from the sell-offs to help fund new play areas and enhance local parks.
More than 60 parcels of land are earmarked for sale, but protesters are concerned about loss of wildlife and community open spaces.
Public consultation on the council's Area Green Space Plan began in June and will finish at the end of October.
Protest march
Campaign groups have been set up in Fishponds, Henbury, Horfield, Knowle West, Stockwood, St Anne's, Bishopsworth, Shirehampton, Southmead and Lockleaze.
A protest march is to be staged at the Council House in College Green on 15 September when the proposals will be discussed.
Rosemarie Rendu-Jeffries has helped raised a 750-name petition against plans to sell of grassland at Lodge Hill near Kingswood, known locally as Diddly Dumps.
"This is a very special piece of land," she said.
"It has never been built on and people in the area enjoy it on a daily basis. It has magnificent views [across] Bristol, Gloucestershire and the Welsh hills."
Fellow campaigner Pauline Potter said: "We need to think of our children and grandchildren and try to keep these small green spaces."
Gary Hopkins, councillor responsible for open spaces, said: "The plan was developed in consultation with the parks forum, who represent parks groups around Bristol, and wildlife conservationists.
"It's a matter of making certain there's investment into our parks. They are well loved and need money spending on them."
He added that after the consultation, amendments to the plans could be made, although their principle will not change.