Bristol drivers caught double parking face ticket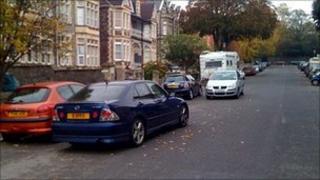 Traffic wardens in Bristol are to be given new powers to ticket motorists who double park on the city's streets.
Some residents claim offenders have blocked them in, or obstructed traffic. The council said access for emergency services could also be hampered.
The new enforcement measure will come into force on 9 August.
The authority has already adopted other powers to penalise drivers using bus lanes and those who block dropped kerbs, preventing wheelchair access.
Councillor Gary Hopkins, cabinet member for Strategic Transport, Waste and Targeted Improvement, said: "The [wardens] will take a common sense approach.
"They will be instructed to concentrate on vehicles that are restricting traffic and access by the emergency services."