Bradford street named after Yorkshire Regiment soldier Christopher Kershaw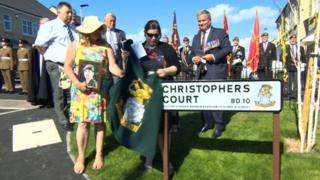 A street has been named after a 19-year-old soldier killed in a bomb attack in Afghanistan in 2012.
Pte Christopher Kershaw of the Yorkshire Regiment was the youngest of six soldiers who died when their Warrior armoured fighting vehicle was destroyed by the Taliban in March 2012.
Unveiling took place at Christophers Court in a new housing development near Thorp Garth, Bradford.
Pte Kershaw's sister, Sarah-Louise, unveiled the Christophers Court sign.
The developer, Jack Lunn, covered the costs of the sign and ceremony.
The unveiling followed a short service by Rev Robin Gamble, a friend of the family.
The Yorkshire Regiment was represented by serving soldiers, a bugler, veterans and regimental standards, and Lord Mayor of Bradford, Councillor Geoff Reid, attended.
Pte Kershaw served with the Army Cadets before joining the 3rd Battalion, The Yorkshire Regiment.