Bradford ex-councillor's family jailed for visa scam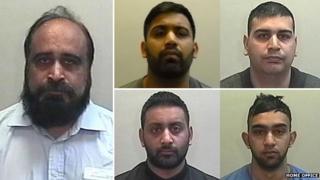 Five members of a family - led by a former Bradford city councillor - have been jailed for immigration fraud.
Khadham Hussain, 62, a ward councillor between 2004 and 2006, was linked to about 100 fraudulent visa applications.
He and his wife Zahida Parveen, three sons Adnan, Gibran and Adam Ashraf, and nephew Numan Shafi were all found guilty at Bradford Crown Court of conspiring to defraud.
Parveen, 53, is to be sentenced on 4 December at the same court.
The family produced and sold forged documents, which were then submitted by others as part of their visa applications to the Home Office.
Hussain and his family were arrested in September 2012, a year after investigators were alerted to their activities.
'Cheat' the system
Craig Swanston, from Home Office Criminal Investigations, said the sentences came at "the end of a complex investigation into the criminal activities of a Bradford-based organised crime group led by Khadam Hussain".
"His gang, which included members of his family, used fraudulent practices to cheat our immigration system and facilitate the illegal entry of foreign nationals into the UK," he said.
He said the sentences "reflect the gravity of these offences, and this gang are now paying the price for their criminality".
Hussain, of Box Tree Close, was a Conservative councillor in the City Ward and was jailed for nine years.
Ashraf, 36, of Northcroft Rise; Shafi, 26, of Hilton Road, and Gibran Hussain, 26, of Box Tree Close, were given seven-year sentences on Thursday.
Adnan Hussain, 31, of Hilton Road, was jailed for seven years and three months after admitting a benefit fraud offence.