Shadow chancellor Ed Balls fined over car accident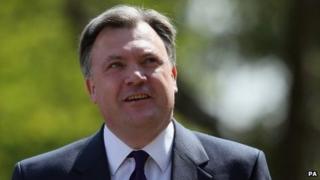 Shadow chancellor Ed Balls has been fined £900 and given five penalty points for failing to stop after a car crash in West Yorkshire.
The Morley and Outwood MP drove off after hitting a parked car next to Morley's Labour Unity Club on 5 April.
Mr Balls, who did not contest the charge, said previously he was unaware he had damaged the other vehicle.
A district judge at Leeds Magistrates' Court said the offence was "at the lower end of the scale of seriousness".
Mr Balls did not attend the hearing but admitted the offences of failing to stop and failing to report an accident in a letter from his solicitors.
Previous offences
District Judge Roy Anderson said: "Motorists who leave the scene of accidents without stopping to exchange particulars will, in serious cases, face a penalty which includes disqualification from driving.
"This, however, is a case very much at the lower end of the scale of seriousness.
"No injury was caused to any person and the damage to the car was, in reality, very slight.
"While Mr Balls was careless to a minor degree in colliding with the parked car, it's quite clear that if he had stopped at the time to exchange details, this matter would never have been the subject of criminal proceedings."
The Labour MP was ordered to pay a £900 fine, a £90 surcharge and contribute £85 towards the costs of prosecution.
Last year, Mr Balls was given three points for driving through a red light on the Embankment in central London.
He was also caught speeding in West Yorkshire, for which he paid a fine and attended a speed awareness course rather than accept penalty points.
In 2010 the then Children's Secretary was fined £60 for using a mobile phone while driving.
Writing on his blog in May about the latest offence, Mr Balls said: "Another car was parked close by and I was aware the two bumpers touched. But I had no idea any damage had been done until the police got in touch a week later.
"As soon as I was aware any damage had been done, I immediately took full responsibility for any damage caused.
"I've been in touch with the owner to apologise for the inconvenience and to pay for the repair to the marks on the parked car's bodywork."