Bradford's £24m city centre park officially opened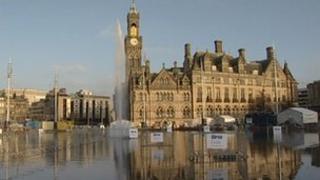 A £24m park in Bradford city centre has been opened to the public.
The six-acre (2.4 hectare) park has been built in front of the Victorian city hall and features a 4,000 sq m (43,060 sq ft) mirror pool and 100 fountains.
The opening was marked by theatre and musical performances and a light show featuring the park's fountains.
Bradford City Council said the park was "designed to attract visitors from across the UK".
It is planning to hold a series of events and activities in the park throughout the year.
The final park is a scaled down version of one proposed in the city's masterplan in 2003. The original scheme involved building a lake around the Grade I listed City Hall.
It has been funded by the council, the now abolished regional development agency Yorkshire Forward and the Regional Transport Board.
Building work started on the site in December 2009.
The city's former police headquarters was demolished to make way for the development.