Wakefield arson: Appeal over Lea Brooke death in 2008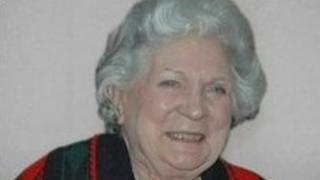 Detectives investigating the murder of a woman in an arson attack have made a fresh plea for help as the third anniversary of her death approaches.
Lea Brooke, 81, died after white spirit was poured through the letterbox of her home in Walton Lane, Wakefield, and ignited on 10 November 2008.
Appeals have have been made including on the BBC's Crimewatch programme but her killer has not been caught.
Police said whoever killed her had a "terrible burden to carry".
Detectives believe Ms Brooke may have been the victim of mistaken identity.
Det Supt David Pervin, of West Yorkshire Police's homicide and major inquiry team, said: "Lea was a lovely lady who was well liked in the local community and had all her family around her.
"While her family may be trying to move on they are still desperate to find out who was responsible for her death.
"I still feel the answer to this lies locally and that someone in the local community has information which, for whatever reason, they are holding back.
"I'm sure this person will have seen the many appeals we have made but has decided to remain silent.
"This must be a terrible burden to carry."