Bradford Cathedral 'first in UK' to install solar panels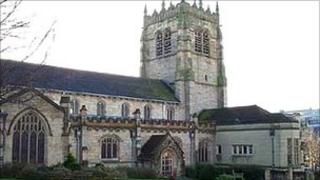 Solar panels are to be fitted to the roof of Bradford Cathedral, which it says will make it the first in the UK to generate power in this way.
Permission to install the panels on the Grade 1 listed building has been given by English Heritage and the Cathedrals Fabric Commission for England.
Forty two solar panels will be fitted to the south aisle roof, covering an area of 70 sq m (753 sq ft).
The panels, costing £50,000, will not be visible from the ground.
'Eco congregation'
Canon Andrew Williams, who leads Bradford Cathedral's Eco Group, said he was "delighted" permission had been granted to fit the solar panels.
"While it would be naive of us to say that the financial benefits aren't important, a key reason for doing this was to reduce our carbon footprint," he said.
"We have been working hard over the past five years, not only to become more sustainable ourselves, but to encourage our congregation to work hard in their own homes and workplaces to do the same."
Last year, Bradford Cathedral was awarded "eco congregation" status after having cut the building's carbon footprint.
It is hoped the panels on Bradford Cathedral's roof will be ready for use at the end of August.