Batley students protest at school closure plans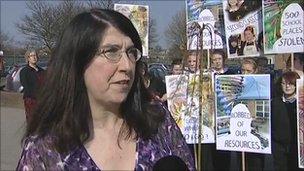 Students and teachers have been protesting against plans to close a high school in West Yorkshire.
Kirklees Council plans to close Batley Girls' High School and for the students to share a site with Batley Business and Enterprise College.
Headteacher Jackie Eames said plans for the school would create a "community disaster".
The council said it was committed to providing both single sex and co-educational schools in the Batley area.
Kirklees Council wants to house the two schools on one site as part of a re-organisation of secondary education in the area.
Ms Eames, said: "The council in their wisdom have decided to relocate our students to a far inferior site and lose 500 of them in the process.
"We have a sixth form of 200 plus, it's the only one in the area, gets 100% pass rate, it's the best they've got and yet they want to scrap it. What sense does that make?
"We stay here, it will cost nothing, we go there, it costs £20m plus. [It will be a ] community disaster and is nothing except political vanity."
Kirklees Council said the proposals included having boys and girls on the same site, but students of the two schools would be taught separately.
The students and teachers protested on Wednesday ahead of a full council meeting in which they provided a presentation about their concerns.
In a statement the council said: "Further developments in this area are reliant, however, on decisions outside of the council's hands."
Related Internet Links
The BBC is not responsible for the content of external sites.