Wakefield's Clarke Hall 'living history' museum facing closure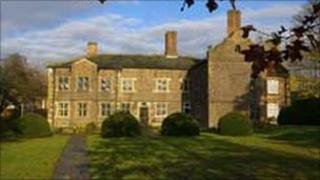 A "living history" museum in Wakefield could be forced to close after its funding was withdrawn.
Wakefield Schools Forum's £242,000 grant towards the annual running costs of Clarke Hall on Aberford Road is to run out in April.
The Friends of Clarke Hall said unless more funding was secured the museum, which hosts school visits, would close.
Wakefield Council said it was looking at other options, but budget cuts had stopped it stepping in to plug the gap.
Janice Scanlon, of the Friends of Clarke Hall group, said: "We cannot afford to lose this wonderful house which is renowned for its educational work, but also for the public's sake as it is full of history and the heritage of Wakefield and West Riding.
'Jewel in the crown'
"Its educational work is so valued that schools as far afield as Portsmouth and Redcar are prepared for pay for their visit.
"It is the jewel in the crown for Wakefield Council and there are few places in the country where children can learn and become part of living history."
Grade II-listed Clarke Hall was built in 1680 and has been used as an education centre since the 1960s.
It is thought to cost about £300,000 a year to run the hall.
The main funding comes from Wakefield Schools Forum, which is made up of local head teachers and councillors.
The council's cabinet member for culture, Councillor David Dagger, said: "The subsidy for Clarke Hall and its school education programme has reluctantly been withdrawn.
"We are considering all options for the future of Clarke Hall, bearing in mind the financial circumstances facing the whole council.
"We recognise how much the hall is valued by the district and beyond and will explore every avenue open to us to ensure it has a future."
More than 400 people have joined the Facebook group Save Clarke Hall Museum.