Inmates 'plotted to kill' war criminal Radislav Krstic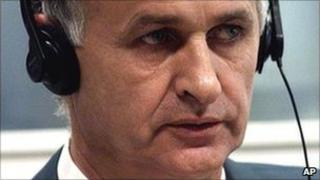 A convicted Bosnian war criminal has told a court he was the victim of a revenge attack by three Muslim prisoners in Wakefield jail.
Radislav Krstic, 62, was serving part of his 35-year sentence in the prison for his part in the killing of Bosnian Muslims in Srebrenica in 1995.
He was attacked last May in what the prosecution says was a revenge mission.
Indrit Krasniqi, 23, Iliyas Khalid, 24, and Quam Ogumbiyi, 29, deny attempted murder, Leeds Crown Court was told.
All three, who are serving life sentences, also pleaded not guilty to wounding with intent to commit grievous bodily harm.
They are alleged to have entered Krstic's cell at high security Wakefield Prison on 7 May and slashed him with knives or blades.
Julian Goose QC, prosecuting, told the jury of seven women and five men that the former soldier suffered a number of injuries, including one 5in (12cm) slash across his neck.
Mr Goose said: "The motive for the attempt to murder him was as a punishment or revenge.
"This was, we say as the prosecution, a planned and determined attack in which the three defendants intended to kill Radislav Krstic.
"The three defendants are practising Muslims.
"He [Krstic] is a Bosnian Serb national who was serving a 35-year sentence for his involvement as a General-Major in the Bosnian Serb Army which killed many Bosnian Muslim men in Srebrenica in 1995.
"Mr Krstic's background was known to others within Wakefield Prison including many of the prisoners."
Washing curtains
Speaking through an interpreter, Krstic told the court how he thought he was going to die when he was attacked.
He said: "They looked at me with a scary look. I truly understood why they came. They came to kill me."
He described being pinned down by one man while the other two cut him and he started losing consciousness.
"I was just having visions of my family and pictures of them in my mind," he said.
"I thought 'it's all over and done with'."
He said he had earlier been doing his laundry and washing his curtains in his cell.
The jury was told Krstic was convicted of genocide at the International Court for the Former Yugoslavia, in The Hague, in 2001 and was sentenced to 46 years in prison.
'Flabbergasted' by killings
An appeal court reduced the conviction to aiding and abetting genocide and his sentence was cut to 35 years.
He was transferred to the UK to serve his sentence in 2004.
Icah Peart QC, defending Krasniqi, asked Krstic for more details about his conviction.
He said: "Amongst theses charges was one of the genocide of 8,100 Muslim men and boys. Is that correct?"
Krstic replied "yes" but appealed to the judge to intervene, saying he felt he was being tried again for the matters which had been dealt with.
Mr Justice Henriques told him: "The jury are entitled to know why it is you're serving a substantial prison sentence."
Krstic said he was 80km (50 miles) from Srebrenica when the killings took place and was "flabbergasted" when he heard about it.
But he said: "I said that I was morally responsibility due to the rank I was."
Mr Peart said to him: "Would you agree you have a very low opinion of Muslims?"
Krstic replied he had been brought up in an area of mixed nationalities and went to school and joined the Yugoslavian Army with Muslims.
The court heard Krasniqi is an Albanian national and Ogumbiyi is a Nigerian national.
The case was adjourned until Tuesday.