Father's plea to 'crossbow cannibal' Stephen Griffiths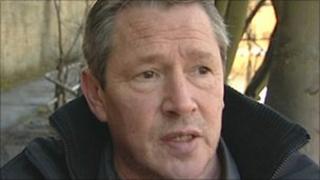 The father of Shelley Armitage, who was murdered by "crossbow cannibal" Stephen Griffiths, has pleaded with him to reveal what he has done with her body.
Griffiths has been told he will spend the rest of his life in prison for the murders of Ms Armitage, Suzanne Blamires and Susan Rushworth.
Daryl Armitage said he had been informed that Griffiths was continuing to refuse food in Wakefield Prison.
He said he had been told Griffiths' condition was deteriorating.
Speaking to BBC Look North, Mr Armitage said he was tormented by the thought that parts of his daughter's body had not been recovered from the River Aire in West Yorkshire.
He said: "I still think that parts of Shelley's body are in this river, but until he tells me, I'm not going to get any answers.
"There were two parts of her body found in there with stones. Why just leave two parts there? There are questions to be asked and I can't just get any answers yet.
"I do feel there's not long left for him to live and I do not believe this human rights carry on where he's saying he's got the right to die.
"We have human rights, what do we have to say about it?
"Why can't he be kept alive just to give us our answers."
In December Griffiths was jailed for life for the murders of the three women.
He admitted murdering Ms Armitage between 25 April and 25 May 2010.
Mr Armitage said he regularly went to the spot on the banks of the river where his daughter's remains were found and wondered what had happened to her.
He added: "At the end of the day I've only got two pieces of a body. To me that's not a body.
"I can't rest until I know exactly what he's done.
"I need to know more about what happened to Shelley.
"If I could go and see him tomorrow I would do, but I don't have the right to do that.
"The judge gave him life in prison, but what's he going to do?
"Three months of his sentence and then die because of his hunger strike - is that a sentence? Where do you go from here?"
'No grave'
Mr Armitage said it was difficult for him or his family to find peace of mind because of the nature of her death.
He added: "If I don't find out it'll be preying on me for the rest of my life. I can't buy a grave because I've only got two pieces of Shelley. What happens if something else turns up, I can't move on from here.
"I just hope he'd tell me, let me go and see him and ask him myself.
"If he dies, where do I go from there?
"I hope and pray he does tell me, but until he gives me the chance to go and see him, or whatever, I'm stuck at a catch 22, I've nowhere to turn.
"I do believe they should keep him alive for the sake of my family and Susanne Rushworth's family, and hopefully he'll come up with something eventually.
"We haven't got long, why won't he tell us what he's done? We've just got to live in hope.
"If he dies, well, I'm never going to be able to take my mind off this problem."
In a statement the Prison Service said: "We do not comment on individual prisoners.
"We take food refusal extremely seriously.
"If a prisoner chooses to refuse food for any reason, the Prison Service works with healthcare staff to monitor their physical and mental health.
"Prisoners who are considered mentally capable are entitled to refuse health interventions like force-feeding, provided they fully understand the consequences of their decision."