Man jailed after heroin found in picture frames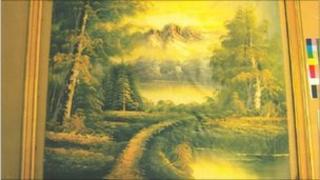 A Bradford man has been jailed for more than seven years after almost a kilo of pure heroin was found concealed inside picture frames.
Tariq Hussain, 32, of the city's Hollings Terrace, was jailed at Bradford Crown Court on Friday.
He had earlier admitted conspiracy to evade prohibition on the importation of a controlled drug and possessing a drug with intent to supply.
The picture frames were recovered by police from Hussain's car last June.
Officers found a large package containing five pictures with frames during a search of the vehicle on Bradford's Kensington Street Street.
They were sent to the Forensic Science Service (FSS) laboratory in Wetherby, where 0.8kg of 100% pure heroin was discovered inside the frames.
'Challenging' case
Police said the package was believed to have arrived in the UK from Pakistan shortly before it was seized.
Hussain was sentenced to seven years and nine months in prison.
Det Insp Noel Devine from West Yorkshire Police, who led the investigation, said: "This was a very sophisticated way to import such high purity drugs in to the UK and just shows what lengths some are prepared to go to.
"It is hard to put a value on a drug of this purity, and it is even more difficult to estimate how much profit can be made by criminals, but I would think it could easily be in excess of half a million pounds.
Julian Dunnill, a senior forensic scientist who was involved with the case, said: "This was one of the most challenging drug concealment cases I have worked on.
"In my 21-year career with the FSS I have dealt with many importation cases, but this is the first time I have found drugs hidden in this way."