Castleford Interchange bid to be resubmitted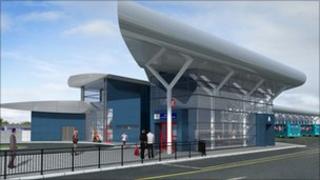 A bid for a Castleford Interchange, which will link the West Yorkshire town's bus and rail services are to be resubmitted to the government.
The proposal by Wakefield Council and Metro for the £14.3m project was put on hold last year as a result of the government's spending review.
They were then invited to put forward a new bid for consideration.
Metro said this would be submitted by Friday. Supporters of the project say it will create jobs and promote growth.
Metro spokesman Martin Driver said their research showed there was interest from businesses in the economic benefits the interchange could bring.
Funds for the £14.3m project would come from the government's Regional Growth Fund.
The bid will be considered by a ministerial group chaired by Deputy Prime Minister Nick Clegg.