Social worker suspended over ignored child warning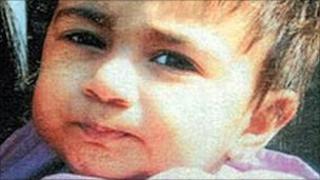 A social worker who failed to pass on details about the abuse of a toddler a week before she was murdered has been suspended for two years.
Judyth Kenworthy was warned that two-year-old Sanam Navsarka had a bruise on her head and had been locked in a cupboard - but did not act.
The General Social Care Council imposed the sanction after finding Ms Kenworthy guilty of misconduct.
Sanam, of Huddersfield, was killed in 2008 by her mother's partner.
She had more than 100 injuries.
A GSCC committee said Mrs Kenworthy had been suspended from the social care register for two years.
Their decision came after a conduct hearing in London.
'Multiple failings'
The committee said Mrs Kenworthy's failings in 2008 were "serious and multiple", and she had failed to report "alarming information" about Sanam.
Mrs Kenworthy, a former family placement officer at Kirklees Council, had denied being told about the cupboard incident but the committee found this to be untrue.
She had admitted failing to pass on a warning about the bruise on the child's head, saying she had been "extremely busy" at the time.
She had also agreed that no measures were taken to safeguard Sanam as a result of her actions and admitted withholding information when she gave a statement to police.
The committee said: "The registrant's professional failings in 2008 were serious and multiple. She was a professional with 18 years experiences in social care who had received training in child protection law and procedures."
It added that she had failed to report "alarming information" that Sanam had a bump on her forehead and had been locked in a cupboard.
The committee said this omission was an unambiguous breach of established child protection procedures and policies which Mrs Kenworthy knew about.
"Although not her social worker, she failed Child A (Sanam) who died just over a week later," it said.
The committee added that Mrs Kenworthy should not have dismissed a concern about a child without investigation.
"The registrant put others at risk and such behaviour undermines public trust and confidence in the social care services.
"The registrant's practices did not meet the standards required of a social worker.
Shattered leg
"At the very least she did not work in a safe and effective way. The public expects social care workers to be trustworthy and to work to relevant standards.
"Confidence in the social care services would be undermined if they do not."
Sanam died after being beaten over four weeks and was found with fractures to all her limbs. A metal pole was used to shatter one of her legs.
Hand prints and bloodstains were found inside cupboards, where she had been put as a punishment.
Her mother Zahbeena Navsarka, 21, was jailed for nine years for manslaughter. Her mother's partner Subhan Anwar, 21, was jailed for life with a minimum term of 23 years for her murder.