Row 'caused Bradford family fire deaths'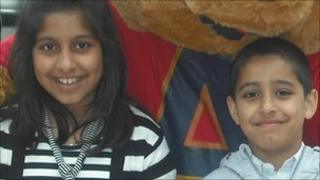 Two brothers killed two children and their mother in an arson attack following a business dispute with the youngsters' father, a court has heard.
Alina Shah, 10, and her brother Aman, eight, were fatally injured at their home in Bradford last July. Their mother, Iram, 30, died in hospital.
Asjid and Arshed Mahmood, aged 22 and 18, deny their murders.
Bradford Crown Court was told there had been a dispute between Asjid and Mrs Shah's former partner Zaheer Shah.
Andrew Stubbs QC, prosecuting, said the argument centred around a car the two men had bought together to hire out.
He said: "Over time this intensified to such an extent that by July of last year Asjid Mahmood was saying he wanted to torture and kill Zaheer Shah."
'Kids are dying'
Jurors were told Mrs Shah and her children were all in the same bed at the house in Hendford Drive on 6 July when the alarm was raised by her brother Mohsan Rasa.
Giving evidence, Mr Rasa described how he went upstairs to raise the alarm with his sister but found there was no way out downstairs.
He said he climbed out of a back window and on to a lower roof where he waited for her to pass the children out to him.
But no-one came and the fire was too intense to climb back in, Mr Rasa said.
He then went round to the front of the house where he saw his sister burning on the ground having jumped.
Mr Rasa said: "She was saying 'my kids are dying inside - take them out, take them out'."
The court was told Mrs Shah suffered 80% burns and died in hospital six days later.
The brothers, both of Pollard Lane, Undercliffe, Bradford, each deny three counts of murder.
The trial continues.