West Yorkshire racy story teacher 'was innovative'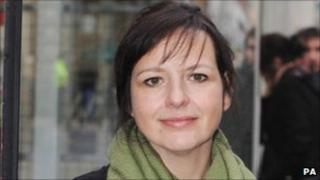 An English teacher who was sacked after she wrote a racy novel about her pupils believed she was being "innovative", an employment tribunal has heard.
Leonora Rustamova, 40, was sacked from Calder High School in West Yorkshire in 2009 after the novel appeared on a self-publishing website.
The story, which described teenage fantasies, named several teachers and featured year 11 pupils.
Mrs Rustamova is claiming unfair dismissal at the Leeds tribunal.
The novel, called Stop! Don't Read This!, also described violence and featured a drug den. It was later removed from the website.
'Violent and misogynistic'
One pupil is referred to as fantasising about and flirting with the former teacher in the book.
Jean Bradbury, vice chair of governors at Calder High School, told the hearing they were concerned about Mrs Rustamova's safeguarding responsibilities.
She said: "Far from feeling she had done something wrong, the majority of her evidence was how she was an excellent teacher at the forefront of her profession and she was innovative, and that didn't marry with the concerns we had."
The school governor told the tribunal that the story had brought the school into disrepute because it was "available in the public arena" and the school had been named in it.
In a statement presented to the hearing, Mrs Rustamova said she had written the story to engage with a group of boys at the school, who were among "the most difficult and unteachable groups one could come across".
She said she was warned they were "overtly racist, violent and misogynistic" and that they "hunt like a pack".
Mrs Rustamova said in the statement: "The boys were very proud of the book. It raised their self-esteem and self-awareness as well as their interest in literacy.
"To this day they are happy for anyone, anyone to read it."
'Miss Rusty'
Mrs Rustamova said the idea for printing the book came from the head teacher at the school, Stephen Ball, who had praised her for the story and suggested it would be a nice idea to give each of the boys a bound copy.
She said she had informed Mr Ball of the "potential issues with the content of the book" in a note which she left on his desk.
However Mrs Rustamova said the decision to publish the book on the internet had been an "unfortunate mistake" after her husband Denis used a self-publishing website.
She added: "The suspension was on the basis of an allegation that I had put the book on the internet but that was remedied within the hour and there was no risk to any child, and the terms on which I was suspended from then for months were disproportionate and unnecessary."
The teacher, dubbed Miss Rusty by her pupils, was at the school for more than 11 years before she lost her job in May 2009.