Owners warned to be vigilant after horse rugs stolen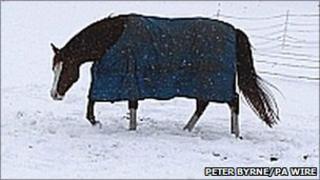 Horse owners in West Yorkshire are being warned to watch out after a spate of horse rug thefts.
The rugs, which are used to keep horses warm outdoors, can cost hundreds of pounds.
In one case in Bradford, 11 rugs were stolen despite most of them being marked with the owner's BD12 postcode.
West Yorkshire Police are appealing for witnesses or anyone with information to come forward as soon as possible.
Some of the stolen rugs were secured to horses with a padlock but the thieves still managed to remove them.
Bradford South Horse Watch co-ordinator Julie Hansord warned horse owners to think twice when being offered a horse rug for sale.
"Please check for any markings and contact the police if you believe the circumstances to be suspicious," she said.