'Busy' social worker failed to act on bruise alert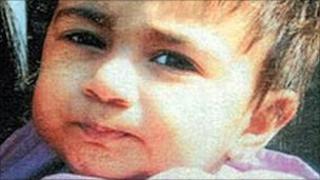 A social worker says she failed to pass on warnings a toddler had a bruised head a week before the child's death, because she was "extremely busy".
Sanam Navsarka, of Huddersfield, West Yorkshire, was murdered in May 2008 by her mother's partner.
The two-year-old had more than 100 injuries. Judyth Kenworthy, a former family placement officer with Kirklees Council, is accused of misconduct.
She told a conduct hearing in London: "I made a mistake."
Mrs Kenworthy, who is accused of misconduct, has admitted failing to pass on warnings about Sanam's bruised head from Jacqueline Peel, who ran a home for vulnerable people.
But she denies she was told Sanam had been locked in a cupboard.
'Important meeting'
She told the General Social Care Council (GSCC): "The only thing I can say is I was extremely busy.
"I was just trying to get to somewhere else, to go to an important meeting and it was just one of those situations where it took over and that I just didn't register as being vitally important, and that was the mistake I made."
Mrs Kenworthy added that she had never worked with children before.
Sanam's mother's partner, Subhan Anwar, was jailed in 2009 for a minimum of 23 years for her murder.
Her mother Zahbeena Navsarka was jailed for nine years for her manslaughter.
Mrs Kenworthy added: "I made a mistake. A lot of it was around the person giving me the information, the time-scale, the fact she had had that information for the whole week [and] done nothing with it."
Mrs Peel was alerted to Sanam's injury when her aunt brought her to stay at the home.
She told investigators the injury was discussed with Mrs Kenworthy at the end of a meeting about a different resident.
Mrs Kenworthy agrees that as a result of her actions no measures were taken to safeguard Sanam and admits withholding information when she gave a statement to police.
The hearing continues.