Trader's fears over Halifax Piece Hall market closures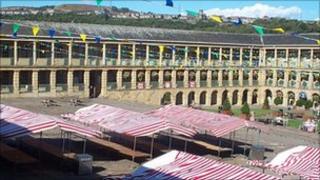 A trader at Halifax's Piece Hall says he fears plans to scrap weekly markets there could harm his business.
Calderdale Council's cabinet is considering plans to cancel the Thursday and Saturday markets which are held in the historic building.
It is thought the proposed closure could save the council £32,000 a year.
But Piece Hall shop owner John Hoyle said: "It is very difficult running a business here but the markets do bring a small amount of extra footfall."
Councillors will consider a number of options for the future of the Piece Hall markets.
Public campaign
The Thursday and Saturday markets at the Piece Hall were temporarily closed in 2006 on health and safety grounds.
They were re-opened after a public campaign but some traders never returned.
Barry Collins, cabinet member for economy and environment, said: "We have got to the position now where we have only one trader on Saturdays and four traders at the Thursday market."
Mr Collins said a decision on the future of the two markets in the Piece Hall was now vital as cuts needed to be made.
"We just have to be realistic. We are facing savings of about £15-16m."
But Mr Hoyle, who runs the Friendly Dragon shop, which sells pagan artefacts at the Piece Hall, said he feared a decision to scrap the markets could backfire.
"There is very little footfall. Anything that brings more people here is a good idea."
If councillors vote to close the markets, stall holders will be given help to relocate to nearby Sowerby Bridge.