Kirklees Council and unions' draft deal to avert strike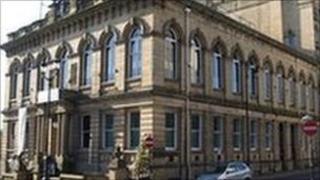 A strike over proposed job cuts at Kirklees council looks set to be averted after managers and unions reached a draft agreement.
In December, members of Unison voted for industrial action in protest at plans to shed 700 staff by 2014.
But talks between the two sides have led to an agreement there will be no compulsory redundancies before April, one of the union's key concerns.
Unison members and councillors are set to meet on Friday to ratify the deal.
The draft agreement also includes a pledge that sickness absence records will not be used as part of the redundancy criteria.
'Meaningful' talks
If members of the council's personnel committee and Unison's Kirklees branch committee back the agreement at separate meetings on Friday, industrial action planned for later this month will be called off.
The two sides have been in talks for several months and continued to meet during the Christmas period.
Kirklees Council chief executive Adrian Lythgo said: "We have continued to hold meaningful discussions with Unison at a local and regional level.
"We have also agreed that, for the period of January 1 to April 1 this year, sickness will not be part of the redundancy criteria.
"We believe that this new solution, if agreed at personnel committee, is one that is fair to our staff, fair to council tax payers and fair to service users, and avoids compulsory redundancies between now and April 1."
Unison branch secretary Paul Holmes said: "We have been consistent from the beginning that we wanted to see no compulsory redundancies.
"We also saw performance as the key factor in service reviews, not sickness absence, and we will now work with the council management to ensure any future reviews are fair to our members."