Dalton Mills in Keighley partially destroyed by fire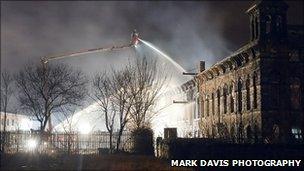 A former textile mill in Keighley has been partially destroyed after a large fire broke out overnight.
The fire at Dalton Mills happened at about 1850 GMT on Saturday.
About 100 firefighters worked through the night to put out the fire at the Grade II listed building, which was built in 1869 and lies empty.
The mill, which at one time was the largest employer in Keighley, has featured in some television programmes and is a landmark in the town.
West Yorkshire fire service manager Steve Rhodes said the centre part of the building had collapsed.
He added that investigations into the circumstances of the fire were under way, but it was too early to comment on the cause.
Mr Rhodes praised the crews who were first on the scene for their work in tackling the fire.
"The initial firefighting jets were extremely effective," he said.
"If these had not been put in certain places then it would have been a huge fire."
A reduced number of firefighters remain at the scene, but they are not entering the building as there are concerns that further parts of it may collapse.
The partially restored mill is in the town centre and had a starring role as Marlborough Mills in the BBC adaptation of North and South.
Related Internet Links
The BBC is not responsible for the content of external sites.