Road flooded as Bradford water main bursts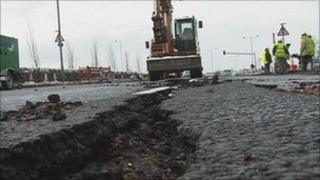 A burst water main has led to a major leak and the closure of a busy road in Bradford.
Emergency services were called to Rooley Lane, near to the junction of the M606 motorway, in the early hours of Saturday.
Firefighters said the water reached a depth of 3ft (91cm) in some parts.
Crews stayed at the scene for several hours to help Yorkshire Water pump away the water. Engineers are now trying to fix the leak.
The cold snap is thought to be the cause of the incident.
Richard Sears, from Yorkshire Water, said: "It's a very difficult time for our people, they are working in very bad conditions on many occasions.
"But our single most important aim during the cold weather is to keep people's taps running and that's what we are trying to do."