Prince Charles visits Bradford to promote wool industry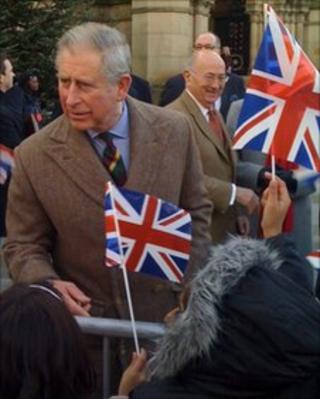 The Prince of Wales has visited Bradford as part of a campaign to champion the wool industry.
The prince, who is patron of the Campaign for Wool, met with farmers and representatives from the industry.
The campaign involves groups from across the wool sector working together to improve public awareness of the benefits of the sustainable product.
The prince also carried out other engagements in the city, including a visit to Belle Vue Girls' School.
During his time in the city, the prince visited Haworth Scouring Company.
Its managing director Martin Curtis said the firm was thrilled when it heard news of the visit.
"Of course it was an absolute joy that the future king of England is taking such a direct interest in the wool industry and what we do with it.
"This is good for the industry, good for wool traders around the country."
At Belle Vue Girls' School the prince met students, including some taking part in the Mosaic mentoring initiative where young Muslims are matched with volunteer mentors.
The group was founded by the prince and convened in 2007 by Business in the Community, one of the prince's charities, to challenge the growing concern around the issues facing young Muslims living in deprived areas of Britain.