Mouth ulcer gel developed from bee resin and wax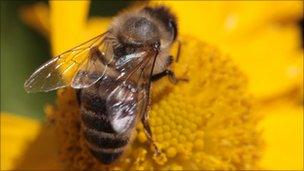 A treatment for mouth ulcers which uses resin and wax made from honeybees has been developed.
Researchers at the University of Bradford have helped create a gel from the substances, which are used by the insects to sterilise their hives.
Scientists have found a way of purifying the mixture - called propolis - so that it dissolves in water.
This eliminates its pungent smell, which had previously meant it could not be used as a medicine.
Propolis is known for its wound-healing and anaesthetic properties.
The development of the gel could result in the creation of many other pharmaceutical products.
Prof Anant Paradkar, who led the research, said: "There is a substantial market for propolis-based products, particularly in China, the USA and South Asia. The main stumbling block has been the solubility and odour issues, which our formulation overcomes.
"A problem for mouth gels is that adhesion to the skin membrane inside the mouth is difficult - because of the nature of the surface the gel can simply slide off.
"But as propolis retains some of its stickiness, even in a water-soluble formulation, when it is applied to specific areas in the mouth it adheres more effectively."
The gel has been developed in conjunction with North Yorkshire-based business, Nature's Laboratory, and an application for a patent has been submitted.
Related Internet Links
The BBC is not responsible for the content of external sites.