Morrisons to create 1,000 jobs for homeless people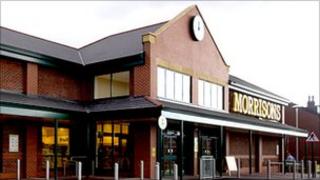 Supermarket group Morrisons has pledged to create 1,000 jobs for homeless people over the next three years.
The Bradford-based group, which is the UK's fourth largest food retailer, aims to offer 10% of the jobs it creates at its new stores to "vulnerable" people.
It is running the initiative in partnership with the Salvation Army and Leeds-based social enterprise Create.
After three months training, new staff can take up apprenticeships, including as a butcher, baker or fishmonger.
The first five people trained under the scheme started their first day at work in the new Morrisons store in Harehills, one of the most deprived areas of Leeds, on Monday.
A Morrisons spokesman said the group was in a period of growth and wanted to recruit new staff from all sections of the community.
Norman Pickavance, group HR director for Morrisons, said: "This initiative will help disadvantaged people to get their lives back on track.
"We look forward to taking this approach nationally and we would encourage other British businesses to join us on this initiative."
Baroness Warsi, Conservative party chairman, said: "This is a great example of businesses working with the community to create jobs and drive growth at a time of economic uncertainty.
"Initiatives like this will make a real difference to people's lives, providing them and the country with the skills they need to promote growth."
Profits jump
The scheme offers new staff three months of training, both in the classroom and on the job, leading to a Qualifications and Credit Framework (QCF) Level 1 qualification.
People can then go on to gain a QCF Level 2 qualification or take up an apprenticeship with the group.
Julie Harrington, a spokeswoman for Create, said the scheme would help homeless people back on to the jobs ladder, even if they left Morrisons after the initial training.
"It gets them back into the habit of working, they get accredited training opportunities and something that when they come to an interview they can really talk about," she said.
Last month Morrisons announced a new partnership with Bradford University's management school under which it will fund 20 undergraduates through a three-year degree course in food manufacturing, paying them a salary.
The plans were announced as Morrisons reported a 14% rise in underlying pre-tax profits to £410m in the six months to 1 August.
The company's life president and former chairman Sir Ken Morrison is to be awarded the freedom of the city, Bradford council has announced.
Others previously admitted to the city's Roll of Honorary Freemen include artist David Hockney, the 3rd Battalion of the Yorkshire Regiment, and author J B Priestley.