Violent death of popular shopkeeper Gurmail Singh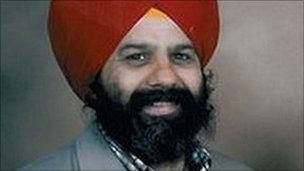 His brutal killing shocked a community and made headlines across the UK.
Gurmail Singh was working in his Huddersfield convenience store when a group of men walked in and tried to steal cash, cigarettes and alcohol.
When the 63-year-old refused to simply hand over his hard-earned money the men grabbed the nearest weapons to hand - bottles of wine from the shelves - and battered him to death.
A jury at Bradford Crown Court heard the robbers were tackled by members of the public after the attack, and they managed to escape with very little.
The scene confronting those who then entered the shop was "a desperate one", the court heard, with Mr Singh lying on the floor of the shop badly injured and bleeding.
He died the following day in hospital.
Two men - Muawaz Khalid, 20, and Nabeel Shafi, 18, both from Huddersfield - were convicted of the shopkeeper's murder after a six-week trial.
They have now been given life sentences. Khalid will serve a minimum of 21 years in prison and Shafi will serve at least 20.
After the killing in February tributes poured in for Mr Singh, who had a wife, two adult sons and a daughter.
He had worked in the shop in Cowcliffe for five years, opening from 0600 GMT to 1900 GMT seven days a week.
Police described him as a "well-known and popular businessman who had been in this area for many years".
Billy Pickup, landlord of the Shepherd's Arms, said: "There wasn't a bad bone in his body. He was badly missed."
The village started raising money for a reward for information after Mr Singh's death. After five men were charged the money was put into a fund for a memorial instead.
A bench will now be put in the village in Mr Singh's honour, and Mr Pickup said any remaining money would be given to his family.
He said: "They're a lovely family and the community round here's just rallied round them."
Mehboob Khan, leader of Kirklees Council, said Mr Singh was "extremely hard-working" and "would not hurt a fly".
"He was very popular in the area, particularly with his elderly customers," Mr Khan said.
"He was always putting other people first and thinking of his family. He was a real pillar of the community."
Neighbour Ian Davison said: "You couldn't wish to meet a nicer bloke than Mr Singh.
"Even in the snow he was pulling his sledge up here with his grandson, making sure the papers got delivered."
Hundreds of people paid their respects to Mr Singh during his funeral service at the Sikh temple in Huddersfield in March.
Mourners included fellow Sikhs from across West Yorkshire, shopkeepers, civic dignitaries and other members of the public.
In July, six months after Mr Singh's death, his sons Bobby and Jas Hayre reopened the shop after a refit.
Bobby said: "We just wanted to be here for the local community."
As the store reopened, Mr Singh's sister Darshan Kaur showed off the portrait of her brother which still has pride of place above the counter.
After the murder convictions last month, Mr Singh's son Jas said: "My mother has been completely devastated by the murder of her husband. Since he was killed her health has deteriorated vastly.
"We miss our father's patience, support, calmness, warmth, strength and love. He showed all these characteristics every day of his life."
Related Internet Links
The BBC is not responsible for the content of external sites.