West Yorkshire Police trawl CCTV for demo disruptors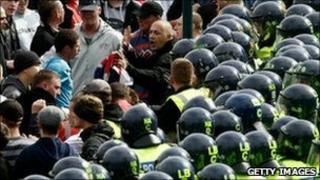 Police say they are trawling through hours of CCTV footage in an effort to identify those responsible for disruption during the August Bank Holiday demonstrations in Bradford.
The right-wing English Defence League (EDL) and its Unite Against Fascism (UAF) opponents held separate protests on 28 August.
Fourteen protesters were arrested after several skirmishes broke out.
Two men were charged, three were fined and eight people were bailed.
Temporary barricade
Police said a 37-year-old Bradford man and a 23-year-old Walsall man had been charged over the incidents.
The Bradford man was charged with possessing an offensive weapon and was bailed to appear at the city's magistrates' court on 8 September.
The Walsall man was charged with a public order offence and was bailed to appear at Leeds Magistrates' Court on 6 December.
Police contained several hundred EDL supporters behind a temporary barricade in the city's Urban Gardens as about 300 people gathered for an event hosted by UAF about half a mile away at the Crown Court Plaza.
Bradford South Divisional Commander Ch Supt Alison Rose said: "As we said at the very beginning of this operation, those who involve themselves in disorder during the demonstrations will not go unnoticed.
"Although the policing of day was a success and went extremely well, some individuals were seen to be committing offences and were captured on CCTV."
Six men - five from Bradford and one from Wakefield - and two youths from Bradford were released on bail.
A 42-year-old Wolverhampton man, a 23-year-old man from Birmingham and a 24-year-old man from Halifax were released from custody after being issued with fixed penalty notices for disorder.