Naturist gardener angry over council's house plan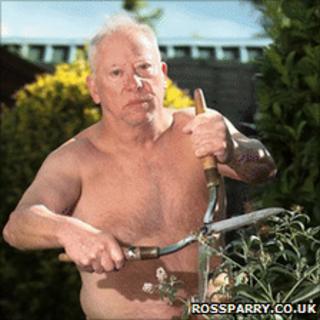 A naturist is claiming a council has breached his human rights after it approved plans for houses overlooking his garden.
Leslie Howard, 70, put up fencing around his home in the West Yorkshire village of Steeton so he could tend to his garden in the nude.
But he now fears people will be able to see him from the houses, and is worried he could be arrested.
Bradford Council said their actions complied with human rights legislation.
Mr Howard said: "For 17 years I have been walking around with no problem whatsoever, you know, sunbathing, doing the garden.
"The first I knew about it was when a planning notice went up on a telegraph pole next to my house.
"I objected [to the council's decision] on the grounds that the houses would overlook my garden, but the planning officer said they had acted with due and proper regard to privacy.
"I think it's disgusting. Human rights legislation says that I should have the right to control who sees my body.
"Now I am worried that people who move into the houses could look out their window and see me. People should be informed that they may see somebody naked.
The former firefighter added that council officers had told him he could be arrested if neighbours saw him naked in his garden and called the police.
Bradford Council's planning casework manager Ian Wilson said: "As with all applications, we took into account the privacy of residents surrounding the site in Coppy Road, including Mr Howard, and the high degree of screening around Mr Howard's own garden was noted.
"The application for housing next to Mr Howard's property will see homes being built 30 metres from Mr Howard's house so it was considered there would be no loss of privacy within habitable rooms.
"The council's planning process and procedures are compatible and balanced with the Human Rights Act and we are confident this application complies with these standards."