Haworth mill bosses vow to continue 'for sake of staff'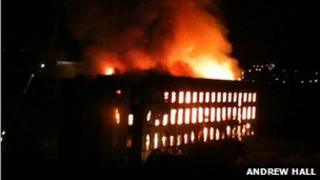 Bosses at a Haworth mill firm whose production site was destroyed by fire have vowed to continue running the business for the sake of their staff.
The fire broke out at Ebor Mills on Ebor Lane on 14 August. The six-storey building was so badly damaged that it is now being demolished.
The 44 workers at spring-making company Airedale Springs are now working from nearby offices which were not affected.
Chairman Tim Parkinson told BBC Look North: "We are still in business."
Mr Parkinson said the company had received support from other spring manufacturers and the firm was fulfilling as many orders as possible.
He added: "We are going to carry on and keep fixed on the prize of maybe, in 12 months, being in a new factory with our equipment.
"We are not going to give up 65 years of history and goodness knows how many years of experience for the staff we have here."
The cause of the fire is being investigated.