Five jailed over Bradford postal vote scam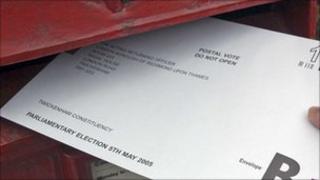 Five men, including two ex-councillors, have been jailed over a failed postal vote scam in the 2005 general election.
A judge heard the men plotted to get Conservative candidate Haroon Rashid elected in the Bradford West seat using fraudulent postal vote applications.
One man admitted conspiring to defraud the city's electoral registration officer and was jailed for 11 months.
The four other men had denied the charge but were found guilty and jailed for 21 months at Leeds Crown Court.
Former Bradford city councillor Jamshed Khan, 65, of Russell Street, Bradford; another former councillor Reis Khan, 40, of Whetley Hill, Bradford; Mohammed Sultan, 52, of Toller Lane, Bradford and Mohammed Rafiq, 70, of Cecil Avenue, Bradford, were convicted of the offence at a trial earlier this year.
They were each jailed for 21 months for their part in the conspiracy.
Candidate defeated
Alyas Khan, 52, of Hilton Road, Bradford, had admitted the offence and was jailed for 11 months.
The court was told detectives examined about 900 suspicious forms - many from people who did not exist or had no idea an application had been made on their behalf.
The plot was foiled before the conspirators had the chance to convert the applications into votes and, in the end, Mr Rashid was defeated by sitting Labour MP Marsha Singh who won with a majority of more than 3,000.
After the sentencing, Electoral Commission chairwoman Jenny Watson said: "We welcome the sentences given to the five men involved in the Bradford fraudulent registration case.
"Electoral fraud is a crime and, rightly, is taken seriously by the police, courts and all those involved in running elections."