Tesco wins new Ilkley superstore appeal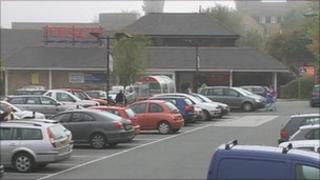 Supermarket giant Tesco has won permission to build a new superstore in a West Yorkshire town after a controversial planning appeal.
Bradford Council rejected the firm's plan to replace its existing store in Ilkley with a much bigger one on a former industrial site.
The government's Planning Inspectorate has overturned the council's decision following an eight-day public inquiry.
Campaigners said they would continue to fight against the store.
Residents' group Ilkley Residents Against Tesco Encroachment (Irate) collected thousands of signatures against the plans for a new store on Mayfield Road and the transformation of the current store in Springs Lane into a care home and retail units.
The group said people living near the Mayfield Road site would see their lives "blighted" by heavy traffic and light and noise pollution from the new store.
New jobs
Maura Fisherpeake, a member of Irate, said: "This is a very, very black day for Ilkley and a black day for local democracy.
"We already have a Tesco Express, we have already got a medium-sized Tesco, we are a small town, we do not need a large superstore.
"I am going to lobby the government and try to get a referendum for this. If I had money I would take them to the High Court but I haven't got any money, I'm a pensioner."
Tesco said it was "naturally pleased" with the Planning Inspectorate's decision.
It said the new store would create 212 jobs, on top of the existing 145 jobs at its current store.
Matt Magee, Tesco's regional corporate affairs manager, said: "We never take the decision to appeal lightly, but in this case we had always felt that there was a strong case for our improved store and that the town would benefit from the investment and increased footfall."