Gurmail Singh 'beaten to death' in Huddersfield store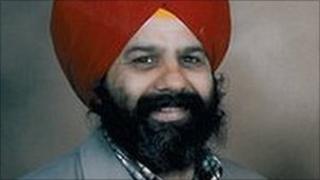 A shopkeeper was battered to death in his Huddersfield store as he tried to protect his "hard-earned money" from robbers, a court was told.
Gurmail Singh, 63, was hit over the head with bottles of wine from his shelves, Bradford Crown Court heard.
A jury was told the shopkeeper was trying to prevent a group of young men from stealing cash, cigarettes, alcohol and sweets from his shop in February.
Two men aged 20 and three aged 18 are on trial. All five deny murder.
On the first day of the trial on Thursday, prosecutor Adrian Waterman QC said: "Gurmail Singh did not meekly hand over his property, his hard-earned money.
"When he resisted the robbers they used serious violence on him, grabbing the nearest weapons to hand, which happened to be bottles of wine he sold in the shop.
"He was hit on the head. It was that which caused his death."
Huddersfield men Umare Aslam, 20, of Coniston Avenue; Muawaz Khalid, 20, of Blackmoorfoot Road; Shoaib Khan, 18, of Calton Street; Nabeel Shafi, 18, of Park Hill; and Rehman Afzal, 18, of Jacinth Court, deny murder.
The jury was told Mr Afzal and Mr Shafi have pleaded guilty to a charge of robbing Mr Singh, and Mr Khan has admitted a charge of assisting an offender.
The court heard smokers outside a pub had seen Mr Aslam and Mr Afzal leaving the shop.
One man went over and held the shop door to try to trap Mr Khalid and Mr Shafi.
Mr Waterman said the men found their way out of another door and were tackled by members of the public, but managed to get away.
'Desperate scene'
He said the scene confronting those who entered the shop was "a desperate one".
"The deceased was lying on the floor in the corner of the shop," he said.
"The turban he always wore was off and his head was very badly injured and bleeding."
The prosecutor said evidence suggested Mr Singh had been hit at least five times with "considerable force by a heavy short object".
Mr Singh was attacked on 20 February and died the next day.
Mr Waterman said Mr Khan was not in the shop because he could not fit in the taxi which took the other men.
He added that each of the five men were "responsible, criminally, for his [Mr Singh's] death".
The trial was adjourned until Friday.