Cost of policing Bradford EDL demo 'in six figures'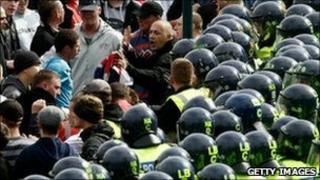 The cost of policing two rival demonstrations in Bradford on Saturday is expected to be "several hundred thousand pounds", police have said.
The right-wing English Defence League (EDL) and its Unite Against Fascism (UAF) opponents held separate protests.
Hundreds of officers from West Yorkshire Police were supported by colleagues from 13 other forces during the operation to keep the groups apart.
Thirteen protesters were arrested after several skirmishes broke out.
Police contained several hundred EDL supporters behind a temporary barricade in the city's Urban Gardens as about 300 people gathered for an event hosted by UAF about half a mile away at the Crown Court Plaza.
During the protests, nearly 100 EDL supporters climbed over the 8ft (2.4m) barricade to get on to neighbouring waste ground from where they threw missiles at police.
However, only one protester and one police officer suffered minor injuries and no property was damaged during the entire operation.
Marches banned
The EDL had originally planned to march through Bradford, prompting fears that its presence could spark unrest like the riots which hit the city in 2001.
Home Secretary Theresa May authorised a blanket ban on marches in Bradford, but this did not prevent Saturday's "static" demonstrations.
West Yorkshire's Chief Constable Sir Norman Bettison said: "The ban of the march seems to have worked.
"No officers were seriously injured and there was no damage to property.
"All those arrested [on Saturday] were from protesting groups.
"The citizens of Bradford were, therefore, unmoved and untroubled to any significant extent and this was due to the excellent planning and joint endeavours of the police and local council."
In the build-up to the EDL demonstration, 10,000 Bradford residents signed a petition opposing it and hundreds attended peace events in the city.
Ishtiaq Ahmed, a spokesman for the Bradford Council for Mosques, said: "It was impressive to see young people taking on the leadership role to keep things calm and peaceful.
"The police response was courageous and appropriate."