Peace events held ahead of Bradford demonstrations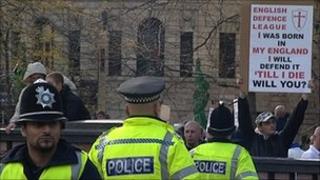 Peace events have been held in Bradford ahead of demonstrations by a right-wing campaign group and its opponents.
The English Defence League (EDL) and Unite Against Fascism (UAF) are holding gatherings in the city on Saturday, prompting a huge police presence.
Earlier this month the home secretary authorised a blanket ban on marches in Bradford but this does not prevent "static" demonstrations.
Events were held on Friday to urge people in the city to unite.
Bradford Together organised a peace vigil which took place outside the council offices on Jacobs Well from 1730 to 1830 BST Friday.
Lorraine Fitzsimons, from the group, said: "This is an opportunity for people to come together and celebrate the positive things about Bradford rather than confrontation."
'Troublemakers punished'
Bradford Women for Peace held an event at Ivegate from 1100 BST Friday in a show of "peace, unity and solidarity".
The calls for peace come amid fears the demonstrations could provoke a violent reaction to rival the 2001 riots.
In a bid to prevent trouble Bradford council said it would be issuing "consequences cards" to people on Saturday, should they look to be moving towards a demonstration.
The cards warn the reader that after the Bradford riots in 2001, 191 people were given sentences totalling more than 510 years.
Council leader, Ian Greenwood, said the cards were aimed towards young people in particular.
He said: "It is extremely important that young people are aware if they get mixed up in a demonstration mainly driven by people from the outside, where the history tells us there may be trouble, they need to understand they could be the unwitting victims of that situation.
"We want them to walk away from it."
Initially the EDL had intended to march in Bradford on Saturday with a planned protest by Unite Against Fascism on the same day.
A high-profile campaign was started to stop the EDL march and a 10,000-signature petition opposing it was handed to the Home Office.
'Public safety'
The home secretary was asked to authorise the ban by Bradford Council.
It came after West Yorkshire Police's Chief Constable Sir Norman Bettison wrote to the council requesting an order to prohibit any public processions over the August Bank Holiday weekend.
West Yorkshire Police said it had been informed by the EDL of its intent to hold a protest at the city's Urban Gardens.
In addition, police said UAF intends to hold a gathering in the area in front of the city's crown court as part of the wider "We Are Bradford" event.
Ch Supt Alison Rose, Bradford south divisional commander, warned troublemakers would be punished.
"Anyone coming into the city on Saturday intent on causing harm, intent on committing any type of criminal act will be dealt with properly and quickly by West Yorkshire Police and by the Criminal Justice System in Bradford."
Bradford council said it had been working with police and other agencies to make sure there would be "as little disruption as possible".
A spokesperson said: "Local people can have confidence in the police and the council maintaining public safety on the day and can be reassured that the city will be returned to normal very quickly after any protests."