Huddersfield hit-and-run death driver jailed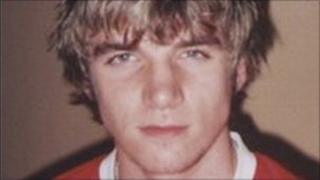 A man who was driving a car which hit and killed a teenager in West Yorkshire has been jailed for 18 months.
Brett Kingsley's car hit Adam O'Toole, 18, in Huddersfield in March 2007.
Kingsley, 25, admitted perverting the course of justice at Bradford Crown Court after he claimed vandalism was the cause of damage to his car.
Mr O'Toole's parents said the decision not to charge Kingsley, of Cecil Street, Oldham, with a more serious offence meant justice was not served.
In a statement read on their behalf outside court, Beverley and John O'Toole said: "For the driver to only face a charge of perverting the course of justice with regards to the fraudulent insurance claim does not feel like justice for Adam, our son, our only child.
"A sentence of 18 months shows little regard for the lost life of Adam at the age of 18 years."
Mr and Mrs O'Toole criticised Kingsley for not stopping to help their son after the accident.
They said: "He did nothing to help Adam as he lay dying.
"By not coming forward despite countless appeals he added to our anguish.
"He did not come forward but he was found out."
Mr O'Toole died in hospital after he was hit by Kingsley's car as he crossed New Hey Road in Salendine Nook.
Kingsley was arrested in February this year after several appeals by police and Mr O'Toole's family for the driver to come forward.
He told police and his insurance company that criminal damage was to blame for dents in his car.
Malcolm Christy, district crown prosecutor for CPS West Yorkshire, said it was intended that Kingsley should be charged with driving without due care and attention.
But he said in such cases a prosecution must be started within six months of the incident and Kingsley was not identified by police until after that period.
Mr Christy said: "At the time of the accident the identiy of the driver was unknown and Mr Kingsley took action to disguise his involvement in the offence in order to avoid detection.
"For this action he was charged with perverting the course of justice."
He added: "Since the date of this tragic accident the offence of causing death by driving without due care and attention has been introduced in order to remedy the perceived restrictions of the old law."