Plans submitted for Dudley Market revamp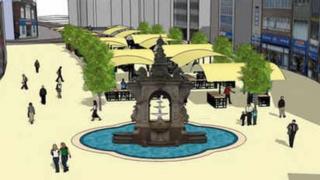 Plans for a £6.7m redevelopment of Dudley Market have been unveiled.
The new layout will include 74 stalls, new paving, lighting and street furniture as part of wider plans to revamp the town, the council said.
The statue of Dudley-born footballer Duncan Edwards will also be moved to the New Street end of the market.
The plans, funded through the European Regional Development Fund and the council, will go before planners early next year.
Work on the project, which also includes the redevelopment of the Castle Street area, is expected to start in April and be completed by mid-2015.
Len Lenihan, from the Dudley Market Traders Association, said the group welcomed the plans but was concerned about the "impact on business in the short term".
"There's a lot of uncertainty because there's going to be considerable disruption with the traffic and pavements being dug up and that could affect the general trade," he said.
Dudley Council said it was talking to traders about imposing concessionary rents to help them during the building work.
Councillor for regeneration, Judy Foster, said: "With the scale of work that's going on it's impossible for there to be no disruption at all.
"We want to improve what Dudley offers shoppers and we are confident the new market place will play a key role in that."