Dudley market to get £6m revamp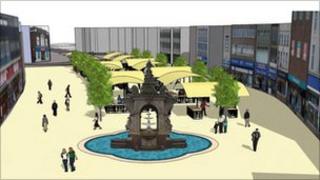 Dudley's market is in line for a £6m overhaul, council chiefs have said.
The council said the regeneration would be "the showpiece project" of a wider regeneration scheme for the Black Country town.
Market stalls will be brightened up and given "vintage-style" canopies while the Duncan Edwards statue will be relocated as part of the plans.
It will be moved from its current location by the fountain to the other end of the market, the council said.
Councillor Les Jones, the council's cabinet member for economic regeneration, said the market place was the only one in the region to be located in a high street.
"The project will make up the biggest revamp of the town in more than two decades and it will breathe fresh life into the existing market place, to create a continual market boulevard," he said.
A consultation has started over the transformation. Plans can be viewed by picking up a leaflet from the library or viewing it online.