Summer Row centre in Wolverhampton to be dropped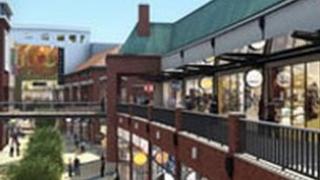 Plans for a council to invest money into a £300m shopping and entertainment centre in Wolverhampton are likely to be dropped.
The city council will hear its officers recommend that the financial risks for the Summer Row development are too great.
A council spokesman said the cabinet was being advised to terminate the development agreement.
The authority is due to meet to discuss the matter later on Wednesday.
A compulsory purchase order that would have been necessary for the development could be allowed to lapse, the spokesman said.
New homes
The then Labour government had given the green-light for the development and a compulsory purchase order to go ahead in February 2008.
It would have included a Debenhams department store, 85 other shops, a cinema and other leisure facilities. An underground car park and new homes were also part of the scheme.
Councillor Peter Bilson, cabinet meeting for regeneration and enterprise for the Labour-run council, said everyone had wanted Summer Row to happen and the council had gone "right up to the wire" to make it work.
"Taking this sad decision is a last resort after all other options were exhausted.
"Summer Row has regrettably been a victim of the credit crunch and were it not for the global collapse of money markets then I have no doubt that our vision to transform retail in this city would be well underway by now."
Paul Sargent, managing director of developers Multi UK, said he was disappointed at the council's decision, but was sympathetic with its viewpoint.
He said the firm would look at alternative ideas to regenerate the city.